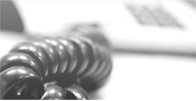 Loan-PRO™
Automated Loan Application System
Loan-PRO auto loan system that collects customer call-in applications for all hours that you do not want the number ringing at your business. You control which questions to ask - to shorten or lengthen the automated questionnaire to your specific requirements. We can fax your leads directly to you, or you may retrieve your leads from the secure Lead-PRO server via instant email notification.
How It Works:
Your auto Vanity-PRO toll-free number is programmed to ring to you.
After hours and on weekends, you can opt to ring your Vanity-PRO number to our automated Loan-PRO system. You choose the questions; you control the loan application.
After the caller has completed an application:
We can send you an immediate email notification to retrieve your application and recorded voice-file from our secure Lead-PRO server.
We can FAX your application directly to you. You then call the IVR system to retrieve the recorded voice-file and listen to the customer stating their name and address.
We do not want you to miss any leads that will bring you business! The more loan applications you receive, the greater your sales. That is why Car Leads® provides Loan-PRO. DEMO: Please call our Dealer Demonstration line at 1-888-FOR DEMO, to see how it works.
Loan-PRO PLUS™
Live Operator
Loan-PRO PLUS is an optional service providing live-operators who take loan applications from borrowers that prefer to talk with a live-operator rather than apply over the internet. Upon completion, the application is placed in your Lead-PRO account for retrieval.
How It Works:
We program your auto Vanity-PRO toll-free number to ring to you.
You can opt to ring your Vanity-PRO number to a live-operator at Loan-PRO PLUS.
After the caller has finished their loan application with a live-operator, you can logon to
Lead-PRO and retrieve your loan application.
Loan-PRO PLUS live operators provide a professional presentation of your dealership after hours. Our live-operators handle thousands of loan applications so your callers are handled with the familiarity you expect from a qualified loan agent. Speaking directly to a live person is always best when you are unavailable to personally answer your calls!